Follow Scandinavia and the World:

Facebook

Twitter

Tumblr
&
Support us via

Patreon

The new
fan art
section is open!
A bunch of people have already been awesome and uploaded their artworks

Every week (or monthly, depending on rate of new art) we will be spotlighting the best fan art. This week's is
Coach Tour
by Thetford.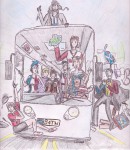 A most chaotic and detailed drawing.
by
| 4 years ago
Comments:

Copyright © 2009-2015 Scandinavia and the World
contact@satwcomic.com
|
Advertise
|
Coded by Dayvi
|
Privacy Policy
---