Wednesday
---
We've been working with a game designer to bring you a Scandinavia and the World card game.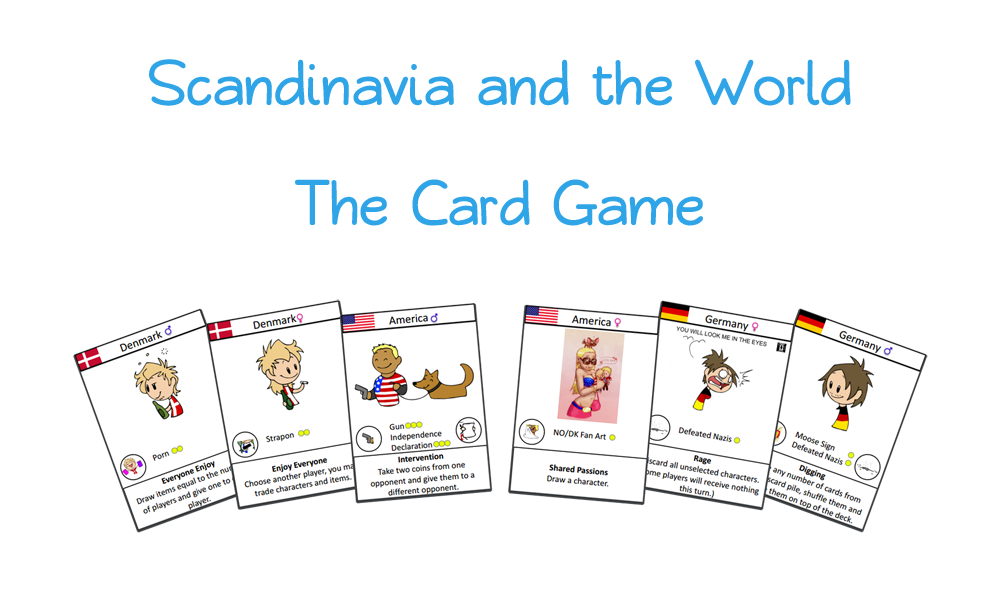 After creating and testing a dozen versions of the game, we've arrived at a core game that we like and are now getting stuck into the finer aspects of design and development.
We could use some feedback to guide this part of the process.
In the game a treasure hoard of tea, lava, porn, drugs, fireworks, robots and heaven knows what else has been discovered. The countries are arguing about how to divide the loot and it's your job to sort everything out. Each turn you'll get some loot, bid against other players to earn a new supporter, deal with whatever 'help' this new country decides to offer before finally giving your supporters items that'll make them happy. The first player to gain three happy supporters wins!
You can find a quick set of the rules here:
3dtotalgames.com/satw/gimme-rules/
And the current playtest cards are here:
3dtotalgames.com/wp-content/uploads/2016/03/SatWItems.pdf
(
placeholder art
)
A more printer friendly playtest file and an updated tabletop simulator version should be available next week.
If you've got any feedback, please post here or email the designer at
greg@3dtotal.com
. At the moment the emphasis is still very much on the gameplay, so we're not getting into graphic design or art just yet (but don't worry - the cards will have new art drawn just for the game). Feedback on the choice of items, suggestions for more characterful abilities and general comments on gameplay are particularly welcome.
Edit
Rules:
3dtotalgames.com/satw/gimme-rules
More printer friendly download:
3dtotalgames.com/wp-content/uploads/2016/03/LootPnP160321-1.pdf
Steam workshop mod for Tabletop Simulator:
steamcommunity.com/sharedfiles/filedetails/?id=613696382
Comments: