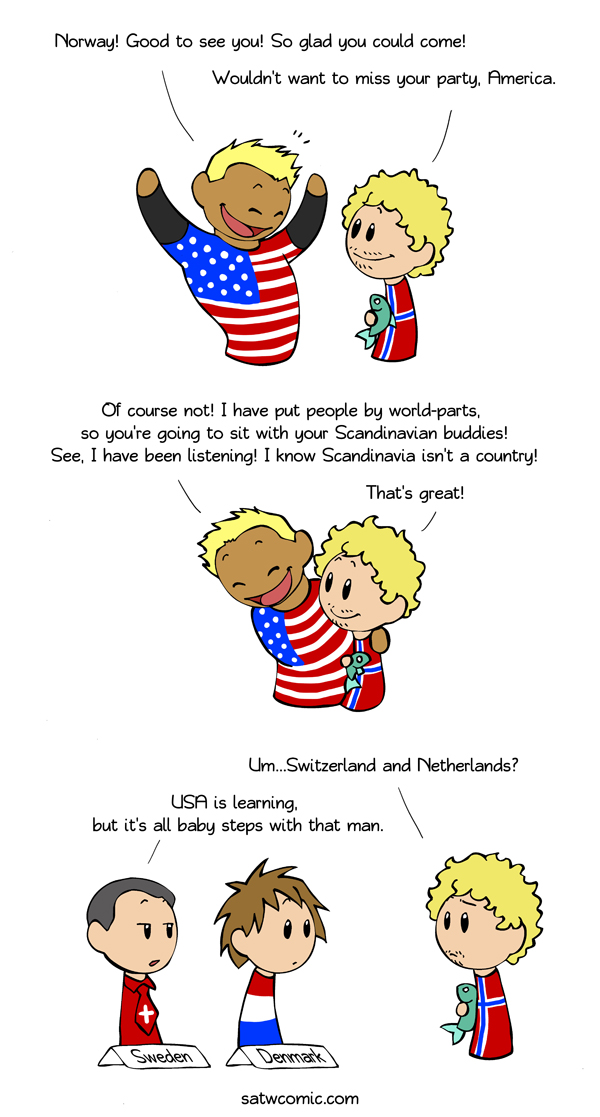 Still a long way
---
Not a month goes by without someone confusing Sweden/Switzerland or Denmark/Netherlands. With Sweden/Switzerland it's because of the names of the countries, but with Denmark/Netherlands it's because people from Denmark are called Danish and people from Netherlands are called Dutch.
It's usually Americans who make those mistakes, but the first time I encountered it in real life was actually in England when I got in the wrong line to get into the country. I was supposed to stand in the Europe line but ended up in the Rest of The World line, and one of the women there could apparently tell something was wrong and asked me, "Are you Dutch?" I said no and handed her my passport which said Denmark and she responded with, "That's what I said: Dutch. Why are you lying about where you're from?"

3rd February 2012
Share Scandinavia and the World:
Latest comic in your News Feed:
1051 Comments:
Follow Scandinavia and the World on
Facebook
Twitter
Tumblr

Tip:
You can filter our archive by country. Example:
China
.
Friends:
Mepsu Comics
,
Romantically Apocalyptic
Copyright © 2009-2015 Scandinavia and the World
contact@satwcomic.com
|
Advertise
|
Coded by Dayvi
|
Privacy Policy